Calendar
For term dates, please click here. You can also enjoy simple 'click' access to the calendar (and a lot more) via the Malorees App. Click here to download.
Adding dates to your calendar
Individual dates

Click the relevant icon to add individual diary dates to your calendar.
In Outlook you will need to click the 'Save' button.
Subscribe to the whole calendar
Please find below instructions on how to configure some of the most popular calendar programmes to automatically display dates from the public address of the school calendar feed, which is:
Feed address: https://www.maloreesschools.com/ical.ics
_____________________________________________________________________________________
Magical Malorees Winter Bazaar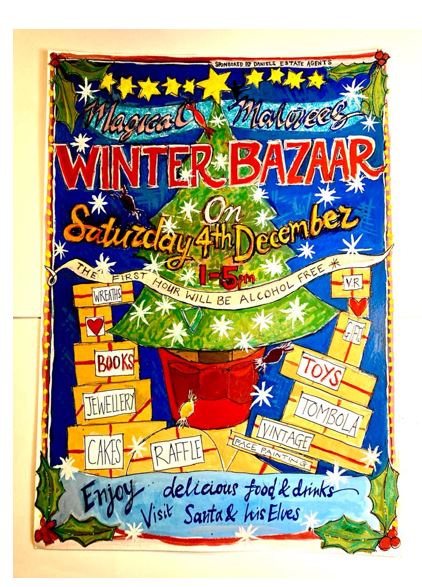 We are very excited to announce ?? Malorees Winter Bazaar 2021 - sponsored by Daniels Real Estate Agents ??.
We have been working hard to bring you some exciting things to share with you and your family and friends. Please rest assured a huge effort is being put into the logistics for everyone's health and safety.
Our bazaar is open to your friends and family so they can enjoy the day with you.

?? Whats on?
Start your gift shopping with some of our beautiful stalls ?? purchase some of our lovely homemade cakes from our cake stand and enjoy with tea or coffee ?? enjoy a refreshing beverage or keep warm with our dirty hot chocolate ?? visit our kids zone and decorate a cookie, make a badge or get your face painted - this year we have Virtual Reality (VR) gaming! ?? visit Santa in his Winter Grotto ?? share food with family and friends at the Family Food Canteen
?? When and where?
Saturday 4th December, 1pm-5pm. Malorees Infant School.
?? How can you help?
Volunteer: We really need lots of volunteers to make this event a success. Please click here to sign up to volunteer to help out on the day or let us know directly if you have a few hours to spare.
Margeaux 07791 614935
Give donations: The donations box will be outside 'The Lodge' (new staff room) to the left as you walk into the Juniors playground.

Tombola: We need items such as - ?? New gift sets, ?? New toiletries/ bath goods, ?? New Perfume, ?? New Makeup, *?? Bottle of drinks
Book: We need very very good condition children's books
Buy and/or sell raffle tickets: Raffle tickets will be sent out in book bags at the end of this week. You will also be given an option to buy tickets online. Watch this space. Please tell your extended family and friends.
Host a sponsorship board: If you can host an estate agent sign at your home that advertises our Winter Bazaar we receive £ for our school. The more signs the more £. Visit https://bit.ly/DanielsSponsorship to enter your details. Ten more people needed please!
Brondesbury Illuminated Trails 2021