walking on sunshine - malorees summer fair video
It's just three days until the Malorees Infant & Junior School Summer Fair.
There's so much going on that the PSFA have made this video to whet your appetites for the big day.
We need YOU!
Please don't forget this day only works with the help of everyone investing a bit of time in the event.
Whether you can donate an hour to support the set-up, one of the stalls or to help us tidy-up it would be much appreciated. bit.ly/Maloreessignup
Please also consider taking part in the Bake-Off and bring in any donations of toys or food.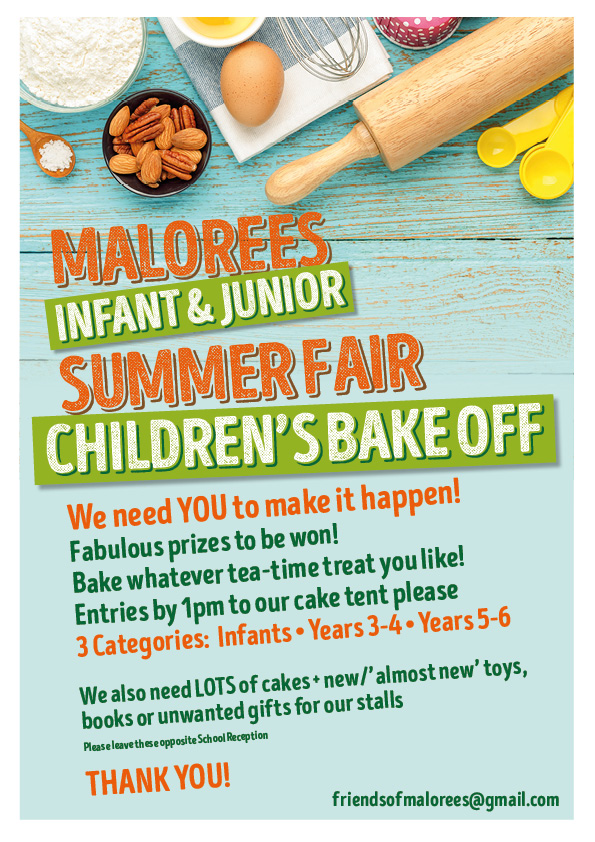 Please be sure to enjoy lunch with us, enjoy Malorees Got Talent, while winning one of the many prizes on the raffle being drawn at 3.30pm.
It's also not too late to win yourself a brilliant online auction prize.
We have this week added "An audience with Louis Theroux" as well as a massage with Laura Stanley and Maqam Centre yoga to the wide range that includes a year's subscription to the Moberly Sports Centre, a free party venue, a publishing masterclass, a month's free gourmet coffe, a day's kayaking fun and lots more!
You can live bid at bit.ly/Maloreesauction2019